Knowing Dolores Huerta's reputation and long history of labor advocacy and union activism in California, I was surprised a few weeks ago to see her quoted on Twitter supporting the plaintiffs' position in the Vergara v. California education lawsuit:
.@DoloresHuerta "former" union activist & .@HillaryClinton supporter supports #Vergara & against @CATeachersAssoc pic.twitter.com/S7orgOBDRm

— Sudi (@sudi_kt) February 22, 2016
Digging a little further in search of the video mentioned in the tweet, I learned that Students Matter had posted, but then removed a Huerta video from their website; however, the same words seen in the tweet are also featured prominently in a Students Matter press release dated January 21, 2016, (and still downloadable as of February 24). In case the Twitter screen shot above is too small or doesn't show in some browsers/devices, here's the quote from Huerta as featured in the press release:
There is no excuse why we can't have equality in education. I think we have the resources to do it, we've just got to have the will.
I didn't see the video before it was pulled so I can only go from the printed word, but the diction of the quote seemed odd to me. I guess because it doesn't mention teachers, and teachers are the entire focus of the case. Equality? Resources? Well, of course– but using the courts as an end-around to undermine unions didn't seem like something Huerta would support. I thought it was unfortunate, and moved on to other concerns, forgetting about the issue for a while.
Fast forward to today. I was working on an EdWeek blog post about the Vergara case, and pulled up a webpage from the California Teachers Association website to link to in my post. This part was surprising:
LATEST: Oral arguments for Vergara v. State of California set for February 25, 2016 in Los Angeles.Labor leader and civil rights icon Dolores Huerta will join educators and community members for a news conference Thursday morning, immediately prior to oral arguments.
Curious about what had transpired, I reached out to CTA. Here's what they shared with me in response: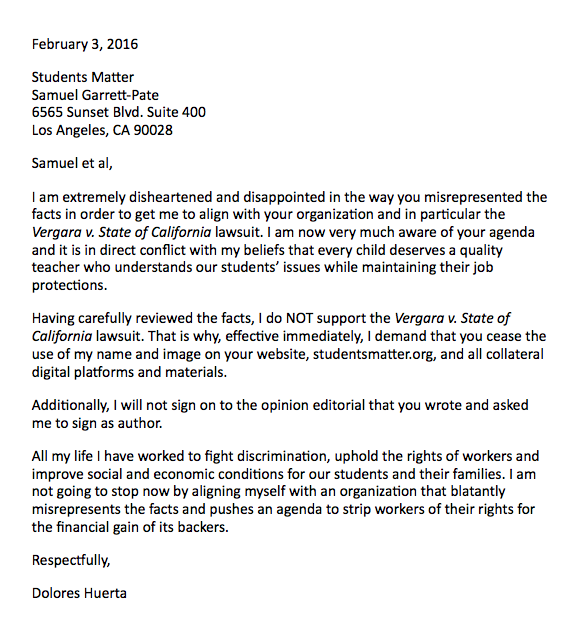 Mystery solved! I'd love to learn more of the backstory. How carefully did Samuel Garrett-Pate have to choose his words and facts in order to secure the ill-gotten endorsement of Dolores Huerta for a case she clearly disapproves of now?